Southern hemisphere #WineWednesday pick: Two Oceans Pinot Grigio 2014.  It's finally becoming spring in the northern part of the planet, and to celebrate, I'm featuring a straightforward, juicy white wine from South Africa.
Are you thirsty?  Do you want something cold, wet, and alcoholic to help with that?  Two Oceans Pinot Grigio to the rescue.  There are fresh aromas of peach, yellow apple, and crushed pineapple on the nose.  The palate is off-dry, with a low level of acidity.  There are flavours of peach, Anjou pear, and papaya.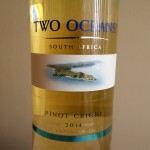 This kind of wine could be a useful part of your wine emergency kit. (What?  Doesn't everybody have one?)  You can keep this in the fridge, and yank it out when friends or neighbours drop round, looking for a splash of something tasty.
Pair this with a patio, or wherever you like to relax.  It's also good with spicy food like Thai fried rice, butter chicken, or Cajun shrimp.
Happy sipping.