We had seen hills on our journey through Alsace to this point, but nothing like what we could tackle on the final riding day.  There were two options: serious climbing, or a wine road.  As a wine fan, the second option seemed immediately attractive, but I felt like I should test myself a bit, so I went for climbing.  Did I mention that it was raining?
Alsace is separated from the rest of France by the Vosges mountains, and during World War 1, when ownership of this region was disputed by France and Germany, the French army constructed the Route des Crêtes, a road that runs along the ridge.  Along this ridge there are several hills, called ballons, and from these hills French troops could signal each other.
Kaysersberg sits at about 200m above sea level, while our starting point for the Route des Crêtes was at 949m.  We cut off about 600m at the start by taking a bus to Le Bonhomme, and then the pain fun started.  Up and down, up and down, up and down, all while a steady drizzle fell, and the temperature was likely hovering at 15C.  The scenery was stunning, so I took a few pictures, but frankly, I was more focused on getting over the next rise than at looking out to the valley.
After 40km of this, we were all tired and hungry, so we stopped at Ferme Auberge Breitzhousen for lunch.  The three-course Repas Marcaire was €19, and I don't think it's an exaggeration to say that it saved the day.  Without something hearty, we weren't going to do much more good on bikes in weather that was getting colder and wetter as the day wore on.
We started with a three-cheese quiche, which was incredible.
Our main course was "collet", which is smoked pork neck, alongside what looked like thick bologna and potatoes, plus salad.
For dessert I got blueberry pie.  Still feeling like I needed a boost, I dug some dark chocolate out of my bag and ordered a cup of tea.
After lunch, I made it as far as Le Markstein, 56km from our start point, and that was it for me.  I did a wet 14km descent to the train station in Kruth, waited 45 miserable minutes, and then let a TER train take me the rest of the way to Thann.  Upon arrival, my lips were blue, and I was shivering so badly, the manager of the Hôtel du Rangen (www.hoteldurangen.com) expressed concern for my health.
Rallied by a hot shower, I gathered some of my group before dinner to sample the bottle of Pierre Sparr Schoenenburg Riesling 2007 I'd been given by the winery.  The hotel owners generously sat us in the breakfast room, gave us a bucket with ice, and put out proper glassware.  They were such nice people.  The wine was stellar, and an excellent way to start the final night of our trip.
We had a lovely dinner at Caveau de l'Engelbourg (www.engelbourg.fr), accompanied by Cave Scheider Riesling Vieilles Vignes 2007 (€19) and Dopff & Irion Pinot Noir Rouge d'Ottrot 2007 (€25,50).
Saturday morning involved a 31km ride to the Mulhouse train station, and then three different trains to get me, two trip companions, and our bikes to Dijon, where we would spend the night at Hôtel le Sauvage (www.hotellesauvage.com) before going to the start of the Northern Burgundy trip.
Dijon is a beautiful city that was once the seat of French government.
There are plenty of grand buildings, and shops.  First up, I hit the Monoprix, like a French version of Target, to get a few only-in-France items.  I then checked out the free archaeological museum, which was really well done.
I bought a bunch of Maille and Edmond Fallot mustard as gifts, and wandered around a bit.
Just as I was thinking about getting a drink before dinner, I stumbled on a place called Bruno Bar à Vins (www.divine-comedie.com/chez-bruno).  There really was a guy named Bruno.  He was the owner, and quite a character.
Bruno's bar also does charcuterie, and there was a great hand-cranked meat slicer at one end of the bar.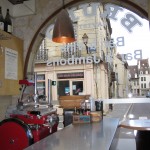 With each drink ordered, some little snacks showed up, and one of these treats was divine, thinly sliced salami.
My first wine was Domaine Deux Roches St. Véran "Terres Noires" 2010, at €5,50 the glass.  It was pale gold colour, with a nose of yellow apple, wet stone, white peach, and lilies.  It was medium-bodied, with flavours of yellow plum, yellow apple, graphite, quince and pear.  Gorgeous wine.
When I tried to leave after one glass, Bruno insisted I have some crisp Pernand-Vergelesses on the house, and handed me a little dish of the sweetest grape tomatoes I have ever tasted, each one hand-polished by him.  It was a simple, elegant, perfect food and wine match.  By this time, the place was full, and some regulars at the bar decided to stand us all a glass.  The atmosphere was wonderful, and I could have stayed all night chatting, but I needed something more to eat than salami and tiny tomatoes, so I took off.
I didn't need to go far, thank goodness, to find something for dinner.  Le Grain de Sel was in the same street, and had a casual bistro atmosphere that appealed to me.  I ordered the duck confit and a glass of Givry.
While the duck and the wine were really good, it was the potatoes that came with my plate that made this meal a star.  Soft but not mushy, savoury but not greasy, these were uncommonly good potatoes.  The waitress would only tell me that they had been cooked in a pan with some oil, and maybe a secret ingredient, but she really couldn't say.  "Secret" meaning "fairy dust", as far as I was concerned.
A walk back to my hotel on a beautiful summer evening, and then it was time for sleep.