Following lunch in the city of Bordeaux, the afternoon consisted of a visit to St. Savin, a private co-op owned by Les Grands Chais de France, that buys grapes, something fairly unusual for Bordeaux. 
We were shown around by Frédéric, Benjamin (jokingly referred to as "M. Calvet"), and Phillipe, the winemakers for the facility.
St. Savin uses automated grape reception, gravity-fed vinification, and computerized temperature control for fermentation.  There is also something called "thermovinification" whereby the juice is heated, then run over the grape skins.  This process pulls out colour in less time than traditional fermentation.
Most of what is turned out here is basic Bordeaux red: 60% Gironde, and 40% Entre-Deux-Mers.  The winemakers take grapes from 67 growers, who tend 540 ha of vines.  The volume of production is 40,000 hl, or about 5 million bottles.  If all that wine starts to overwhelm the main production area, there is a pipeline running underground to a warehouse full of tanks that is just across a field.
We tasted a variety of tank samples, some of them experimental wines, or components for blends.  St. Savin makes house label wines for the French grocery chain Leclerc, and the one we tried was faithful to the traditional style.  The Merlot/Cabernet Sauvignon blend smelled and tasted like black currant, green pepper, and cocoa powder.  A Bordeaux Supérieur from a different tank showed more red currant, smoke and vanilla.
The main goal here is to provide a high quality versus price ratio, and all three men were passionate about what they are trying to achieve.
Based on a suggestion from a Twitter follower, that evening our little group checked out Max Bordeaux (maxbordeaux.com), a wine bar on one of the pedestrian streets in the heart of Bordeaux.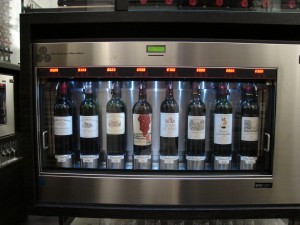 All the Grand Crus are here, housed in Enomatic wine dispensing machines, and available for tasting by the glass.  Max Bordeaux is only open until eight o'clock at night, because it does not have a licence to serve food.
  It's a beautiful space, and the guy who was working when we were there was really nice.  A tasting card is 25 euros, plus 3 euro deposit, and multiple people can share the card.  Here's what we sampled, along with a few tasting notes:
Château Charbonnieux 2006, Pessac-Léognan
Domaine de Chevalier 2007, Graves
Aile d'Argent 2007 (Ch. Mouton Rothschild) 54€ per bottle
Clos Fourtet 2006, St-Émilion (smoke, dried cherry, cedar, and black olive)
Ducru Beaucaillou 2004, St-Julien, 80€ per bottle (cassis, blackberry, vanilla, tobacco, and some iodine)
Château Cheval Blanc 2004, St-Émilion, 274€ per bottle, 15€ per 2.5cl (violets, vanilla, black currant, and smoke)
Having worshipped at the shrine of Grand Cru Classé, we sought our reward at La Brasserie Bordelaise. 
To get things going we had a bottle of Rosé de Chevalier, which was a perfect match for melon au Pineau (cantaloupe with a sweet wine); carpaccio de canard (duck carpaccio); and grosses tomates paysannes (giant country tomatoes).  The tomatoes were no bargain at 7€ apiece, even if they were the size of softballs.  Good thing they were tasty. 
For the main course, we ordered côte de boeuf (bone-in beef rib-eye) for the four of us.  Sliced and served on a hot platter, along with salad and French fries, this was straightforward, carnivorous dining at its best.  It was made even better by the Château La Louvière 2004, Pessac-Léognan from André Lurton that we drank alongside it.
Apparently we had endeared ourselves to one of the bartenders,
François, because when we were finished eating he brought us each a glass of something to taste blind.  It turned out to be Château de Beaulon 1995, a Pineau des Charentes aged in barrels that have been used for Château d'Yquem.  This amber nectar smelled and tasted like peaches, dried apricots, and orange peel, and it was an instant hit with our table.
Fully sated, we trekked back through the pedestrian mall to our hotel, where we rested up for a big day…
Watch for Part #6